Most of our expeditions are only for technical divers and cave divers. It's a refreshing change however when divemasters and instructors can take part. Our goal was to travel to Moyo island. It's a small island off the coast of Sumbawa, Indonesia which is named after the very rare bird that lives there. Upon arrival we would locate dive sites for the new Davy Jones Locker dive school that will be opening there next year. The trip nearly didn't happen as the volcano in Lombok threatened to close all of the airports. But our luck held and we arrived at the Kenchana hotel excited and eager to get into the water.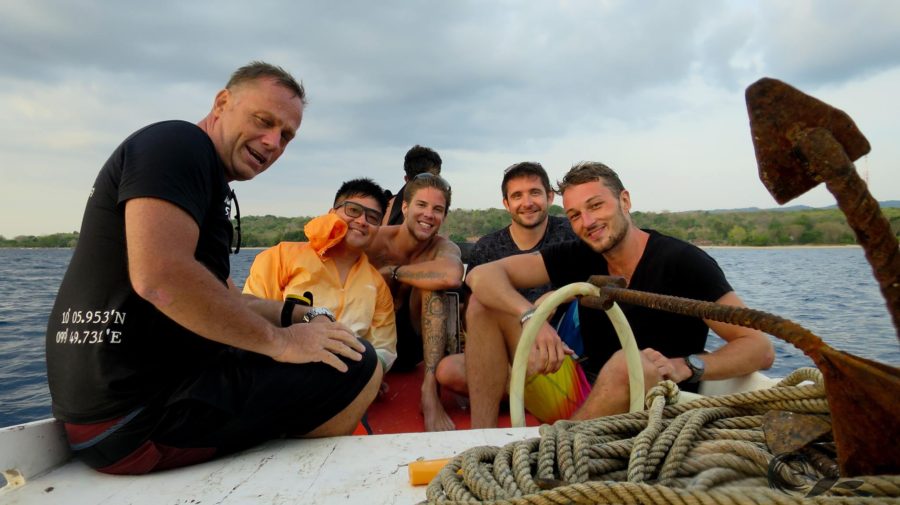 Diving Moyo island
The following day we sailed to the light house to dive the point there. We could not have had a better start to our trip. Black tip and white tip sharks and eagle rays were hanging around and a beautiful drift along a pristine coral wall was to be our reward. Next we went to a mark given to us by a local fisherman. Shipwreck was the translation.
We entered the water not knowing what we would find swimming out over the reef. With forty metre visibility we covered the ground easily. The first sign of human activity was a steam tractor then a small steel ship which we later identified as a steam tug. It had a length of 30 metres, an 8 metre beam and was 24 metres to the sand on the bow. The tug sat majestically on the edge of the wall 30 metres to the sand at the stern.
The ship had been salvaged but that could not detract from this beautiful shipwreck covered in coral. Huge steam pistons in the engine block, the remains of teak decks and the classic lines of a turn of the century tug made this a great find. But as do most of these discoveries, it only left more questions unanswered. What year? How did she sink? What was she doing there? What was her name?
To be continued…..