I first became interested in the Burma Maru after my friend & dive buddy Dave brought it to my attention. He had gotten some marks for her after drinking whisky with a Thai captain in Koh Chang. Marks for this wreck are thin on the ground. This is due to the shortage of sounder and GPS technology available on Cambodian fishing boats.
Even so it took me 2 years to mount an expedition to look for her as we had other ongoing projects. But on the 21st  January 2017 we set off. Myself and buddy Leon from Davy Jones Tech with Mikko and Ivan from Koh Tao Tech divers.
The Expedition
We loaded up the truck and set off on a 25 hour drive to Sihanoukville in Cambodia. After some skullduggery at the border explaining our rebreathers we arrived at The Dive Shop to meet Dennis. One more member of the team, Oliver, arriving by plane from Bangkok, was waiting for us.
Preparing for the Burma Maru dive
Myself and Leon set about blending gas for the ccr divers and the two open circuit divers. Then we loaded up the boat and headed off that night. Waking up at 0800 at the mark we sent the sounder stick over the side and dialled the coordinates into the GPS. I had converted the marks from 60th of a second to decimal minutes and was surprised to see a large return on the sounder after only 15 minutes. This gave us a false sense of security however as it wasn't so easy to tie in. The current was slack at the surface but running at depth and we were blown off the wreck twice before Ivan and the open circuit team managed to run a reel to the top of the stern.
Descent to the wreck
Quickly Leon and myself got into our gear and started our descent, following the line to the stern. The first confirmation of the Burma Maru was the distinctive shape of stern. Followed quickly by the stern telegraph lying on the deck next to its stand. We ran our reel line out towards the bridge but had to turn before we reached it due to time considerations. She is huge.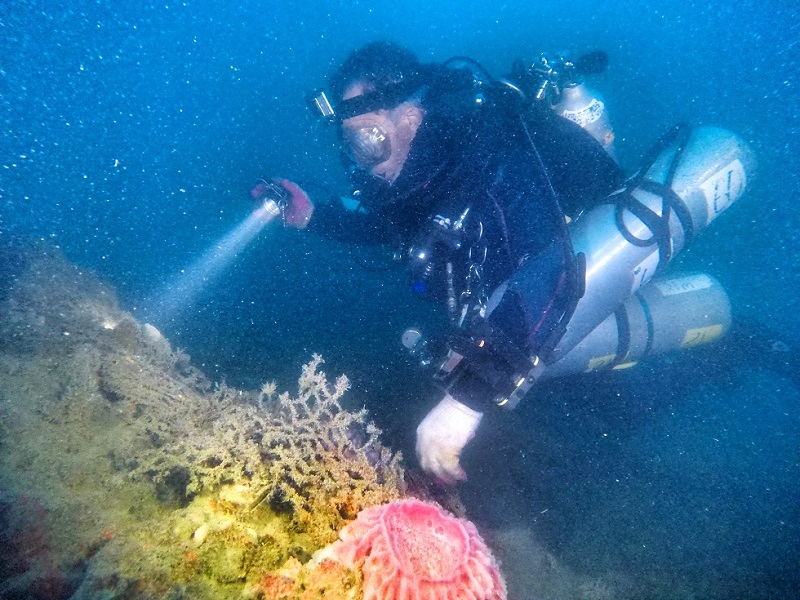 We were convinced we had found the Burma Maru. This became more clear when we looked at the images from Mikko, our teams' cameraman. She lies in 66 metres to the sand and 56 metres to the deck. The bridge has collapsed in on itself but the wreck is in surprisingly good condition after lying on the bottom for nearly 75 years, 60 nautical miles south west of Sanookville.
For more information on this exciting find and more, contact our team at info@techdivethailand.com
Cheers Tim.