NO 1 TATTORI MARU
POSITION 120 NM east of Koh Tao
HULL LAID GLASGOW 1913 6057 GRT OVERAL LENGTH 128 MTR, BEAM 16.5 MTR, PASSENGER CARGO MID CENTRE BRIDGE FORWARD/ AFT HOLDS
HOW DID IT SINK?
Sunk by the submarine USS Hammerhead in 1944. Her mission at time of sinking was to carry war supplies.
Two torpedo fired for two hits, one amid ships and one in the bow just aft of number 1 hold.
WRECK INFORMATION
Wreckage lies starboard side in 75 mtr water, bow is upright, twisted, nearly separated from main body due to explosion, generally good visibility 20 mtr plus.
HISTORY
The Tattori Maru was an infamous ship –with a dark history, nicknamed "hell ship "referring to a mission where she was ordered to transport the survivors of the Bataan death march. POW's were forced to march hundreds of miles to embark to Korea and Japan. The lucky survivors were then forced to work in the factories. POWs that fell by the road side were summarily executed. Once aboard the Tattori Maru men were packed into the holds with no room to lie down. Few lost their lives aboard but all were affected – some men driven insane. Defecating into what little water was available, this in turn caused more misery by spreading cholera. 20 men died on the tattori maru and were buried at sea. A lucky few were allowed to climb onto the deck, where there is an incident recorded. A POW averted a catastrophe by alerting the captain to a torpedo trail aimed at them, the captain took evasive action and narrowly avoided a disaster.
The Tattori Maru bears witness to mans pension for credulity and also his grip on humanity
Authors' note – when I dive around the decks looking into the holds – I cannot help but visualise the faces of the hapless men stood shoulder to shoulder peering back at me.
NO 2 BURMA MARU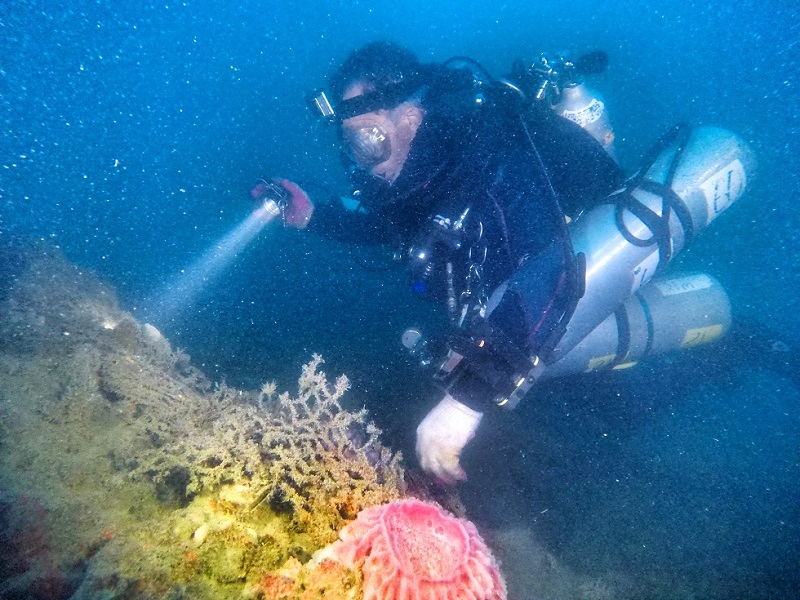 POSITION 60NM west Cambodia
HULL LAID JAPAN in 1917 at Kawasaki ship builders owned by Nanyo Kaion
LENGTH 117 mtr, BEAM 16 mtr, 4850 GRT passenger cargo mid centred bridge forward /aft holds.
HOW DID IT SINK?
Sunk by USS Swordfish 12 June 1942. One torpedo hit forward of bow, her official mission at time of sinking was carrying war supplies.
WRECK INFORMATION
Wreckage lies in 67 mtr water upright top of wreckage is 56 mtr, bow has almost been separated directly in front of the bridge and is at 90 degrees to the main body again upright. Visibility is generally 20mtr +
HISTORY
During her finial mission the Burma maru is believed to have been carrying gifts of reparation from the then Thai king to the emperor of japan although the gifts are thought to be three gold diamond encrusted swords, no evidence has been found to date
AUTHORS NOTE
Since being located this wreck has only been dived a hand full of times. There are many secrets this ship holds and every dive uncovers another.
NO 3 SEA CREST AKA SCAN QUEEN
Position 100 NM east of koh tao
HULL LAID 1977 by far east Livingston shipbuilding Singapore owner Unocal corporation
Length 100 mtr, beam 20 mtr, 4400 G TONs exploration drilling / diving vessel large superstructure stern /halo pad /derrick
HOW DID IT SINK?
Ship was struck by typhoon gay causing her to capsize. She sank some time later, 91 rig workers were killed, some bodies recovered from the wreckage some were washed overboard. There were 6 survivors.
WRECK INFORMATION
The wreck was cleared at the time by Fred Evans (no mean feat). She lies on her starboard side pulled over by the 200 ton top drive unit positioned at the top of the derrick. The pipeline is clearly disconnected hanging over the side amidships.73 mtr to the sand 53 mtr to the top generally good visibility 20mtr +.
HISTORY
The Sea crest was being operated by Unocal for the purpose of drilling and exploration.
Controversy surrounded the sinking of the Sea Crest, before leaving port on her final voyage, she was fitted with a 200 tonne top drive unit atop her derrick. The chef engineer complained the ship was unstable and was replaced immediately, no stability test was conducted. Post sinking the chef engineer GUS was warned to "keep quiet "reported to the author first hand. There was also a problem with the radio, weather forecasts were being relayed to the ship from the mainland- very little warning of the typhoon was received.
The company claimed the pipeline fixed to the bottom was not disconnected, the correct protocol in a storm. Evidence contrary to this can be clearly seen on the wreckage.
The survivors and relatives of the lost souls brought a claim against Unocal which was settled for an undisclosed sum out of court. No further legal case was brought.
AUTHORS NOTE
The Sea Crest is an amazing dive, mindful of her sad history, the superstructure/decks are full of machinery and evidence of techniques used in oil and gas exploration of this period.
NO 4USS LAGARTO SS371
POSITION CLOSE PROXIMITY TO KOH LOSIN
HULL LAID MANITOWOC SHIPBUILDING COMPANY WISCONSIN USA
2429 TONNES USA OVERALL LENGTH 95 MTR, BEAM 8.31 MTR,
UNITED STATES BALAO CLASS SUBMARINE
HOW DID IT SINK?
3RD May 1945 while patrolling with USS Baya/ USS Largarto under the command of commander Latta sighted 4 ships, 1 large 1 small cargo vessels and 2 escorts. After contacting USS Baya the submarines positioned themselves for an attack. After this despite regular attempts by USS Baya to contact USS Lagarto no feather contact was made, USS Baya pressed the attack alone.
Post war records reported the minelayer/convoy escort IJN Hatsutaka making contact with and attacking a submarine on this date in this area. This submarine is believed to be the USS Lagarto.
All 88 submariners were lost.
WRECK INFORMATION
USS Lagarto sits upright in 75 mtr to the sand, 67 mtr top of conning tower. There is damage forward of the conning tower port side it is possible this pierced the inner hull, some torpedo tubes are open and empty suggesting the Lagarto went down fighting
There is generally good visibility in this area 20 mtr plus.
HISTORY
Commander Latter was a decorated officer having been awarded the Navy Cross. The USS Lagarto was commissioned on the 14 th of Oct 1944 and lost on the 3rd of May 1945 in active service for just over 5 months. USS Lagarto is credited with sinking the Japanese merchant cargo ship Tatsumomo Maru on her first war patrol and it is also considered likely that USS Lagarto, sank the Japanese submarine I-371 although not confirmed. USS Lagarto was lost on her 2nd war patrol, Commander Lata was 36 years old, the crew were all young men.
AUTHORS NOTE
USS Largarto is a war grave and is treated as such, flags and wreaths are periodically placed at the site- On the rare occasion it's visited.
NO 5 HTMS PANGAN
Position 60 nm NE of Koh Tao
HULL LAID pre 1942 Japan, overall length 60 mtr, beam 10 mtr, 2500 Tonnes
Military transport large super structure at the stern two holds forward of bridge
HOW DID IT SINK?
OFFICIAL REPORT – sunk in 1961 while transporting out of date munitions for disposal at sea, the ship was caught in an unexpected storm. The cargo shifted and rolled to the port side, the ship listing heavily was swamped in heavy seas. The captain ordered abandon ship and attempted to go down with her.
WRECK INFORMATION
The wreckage is upright listing to port, depth to seabed is 60 mtr. Top of the wreck is 53 mtrs at the stern. The top of the bridge has been pulled off due to a diving vessel tying in short in heavy sea state.
The metal on the super structure has blown, a condition that occurs when metal is super-heated and cooled quickly – evidence of fire. Under the bridge is an oxygen cylinder and a large hole in the ships side, this offers contradicting evidence to the official report . The hulls are multi leveled and offer excellent penetration.
HISTORY
Prior to her sinking the ship was used to transport the body of a high ranking military officer, returning from the indo china war. The deeply suspicious Thai sailors believed the ghost was haunting the ship and as she sank the sound of his crying could be heard!
AUTHORS NOTE
This is a great wreck dive with lots of penetration. Swimming between the holds offers great photo opportunities, good visibility is normal in this area